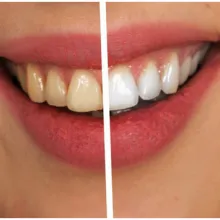 Cosmetic dentistry can correct several aesthetic issues affecting the color, shape, and size of your teeth. Depending on the treatment, cosmetic dentistry can drastically improve the look of the following:
Dull or discolored teeth
Small gaps between the teeth
Minor chips and cracks
Unevenly-sized or short teeth
Severely worn teeth
Teeth Whitening
Teeth whitening procedures are simple ways to brighten your teeth, giving you one big shiny reason to show the world your gorgeous smile. Teeth whitening is one of the most commonly recommended cosmetic dentistry procedures. Bleaching teeth can remove unattractive blemishes and enhance the appearance of your smile.
Teeth whitening treats teeth that are stained, discolored or darkened because of any of the following:
Drinking beverages like coffee, tea, red wine, grape or cherry juice: Color pigments in these beverages can stick to the tooth enamel, darkening its appearance.
Tobacco use: Tar and nicotine give the teeth a yellowish color. While whitening can help with this temporarily, quitting smoking is the best way to prevent these stains. If you would like to discuss quitting strategies, your dentist would be more than happy to connect you with valuable resources.
Natural effects of aging: The outer shell of the tooth structure, called enamel, covers softer, darker tissue called dentin. As you age, that layer of enamel thins and reveals more of the darker dentin.
Trauma: Teeth that have suffered injury respond by producing more dentin, which darkens the tooth.
Medications: Antihistamines, blood pressure medications, and antibiotics are a few of the medications that can discolor teeth. Stains from childhood can persist into adulthood.
Poor oral hygiene: Lack of brushing and other poor oral health habits can worsen stains and hasten their return after dental cleanings. Brush at least twice a day for two minutes and floss daily to prevent stains and other oral health issues from affecting you.
Composite Bonding
Chipped, broken, discolored or decayed teeth may be repaired or have their appearance corrected using a procedure called composite bonding. A dental composite material with the look of enamel and dentin is inserted into a cavity or applied directly to the surface of a tooth. It is then sculpted into the correct shape, contoured, and hardened with a high-intensity light. The result is a restoration that blends invisibly with the remainder of the surrounding tooth structure and the rest of your natural teeth to create a healthy, bright smile.
Veneers and Crowns
A dental veneer is a thin shell that is made to fit on the front of the surface of your tooth with the potential to conceal a variety of flaws. They are recommended when your original teeth experience more extensive blemishes such as severe discoloration, chipped, or severely worn teeth, or enamel defects in teeth. Modern materials are strong and long-lasting and present an appealing natural appearance. When coverage is desired on more surfaces of a tooth, a crown may be recommended.
Implants
Implants are an option for patients who are missing teeth, struggling with uncomfortable dentures, or searching for a substitute to a bridge. To install implants, an oral surgeon or periodontist places posts into the upper and/or lower jaw, providing replacement teeth a sturdy anchor for a more durable function. Often the result of prosthetic (artificial replacement) dentistry is not only an enhanced smile, but also a more youthful appearance, as missing teeth cause the face to collapse, making you look older.
If you think you may be a good candidate for cosmetic dentistry, or you have any questions about procedures, don't hesitate to call or make an appointment with your dentist at Family SmileCare Center!