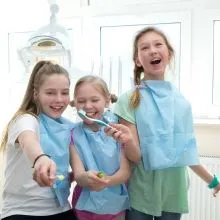 National Children's Dental Health Month, sponsored by the
American Dental Association
and
Crest + Oral B
, is intended to raise awareness about the importance of dental health and establishing good habits early in a child's life. February has come to an end, but below are some ways you can make dental health a priority for the whole family—this month and beyond.
Your child's first dentist appointment
Your child should see the dentist after their first tooth appears, but no later than their first birthday. As soon as a baby has teeth, they can get cavities. It's important to begin a proactive routine that will set them on the track to good dental health for life.
To prepare your child for their first visit, it's important to communicate what's going to happen. Read children's books about the dentist, watch interactive videos and have them practice opening wide. Making dentist appointments fun is a great way to make sure that the child maintains that positive relationship with their dental professional for years to come.
Some tips to make sure your child's first appointment is a success:
Schedule their appointment at a time when your child is well-rested and more cooperative.
Make sure your child has eaten and brushed before their appointment so they won't be hungry.
Save some snacks for after the visit so they aren't on your child's teeth during the exam and your child has something to look forward to!
Losing baby teeth
Babies usually have 20 primary teeth at birth, which begin to erupt at around six months of age. They fall out throughout childhood and by age 21, all 32 permanent teeth are present. When a child is about to lose a tooth, there are typically two reactions: either they don't want you to come near it, or they can't wait to lose it!
If your child wants your help, simply take a tissue and pinch the wiggly tooth between your thumb and forefinger, gently squeeze and twist, and the tooth should come right out. Let your child know that this is an important milestone in becoming a big kid and help them brush gently around the missing tooth.
Forming healthy habits
You should begin brushing your child's teeth as soon as their first tooth appears using a children's toothbrush and toothpaste with fluoride. For children younger than 3, use no more than the size of a grain of rice. Brush thoroughly twice a day, supervise, and encourage them to learn good habits by watching you.
For children three to six years of age, use a pea-sized amount of toothpaste with fluoride and supervise to make sure they're brushing all teeth. Remind them not to swallow the toothpaste!
Encourage your child to choose healthy snacks and brush twice a day. These healthy habits will last them a lifetime. If you have any questions regarding your child's dental health, don't hesitate to ask our dentists!
Tags: