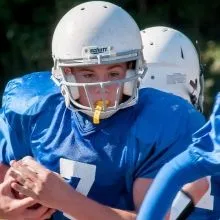 April was Facial Protection Month, a time of year dedicated to spreading awareness and reminding children and their parents to protect the face and head as we head out into the lovely spring weather to play sports. Most oral and facial injuries can be prevented simply by using safety equipment such as helmets and mouth guards.
Sports are a great way for kids to stay active and learn important life-lessons and many children participate in at least one sport per year. Spring often brings many patients to the emergency room or dentist office due to head, mouth, and facial injuries resulting from preventable sports-related accidents. We're here to remind you to play it safe and let you know some easy-to-follow steps to protect your face and head when participating in sports.
Helmets
Helmets are up to 85% effective when it comes to protection from head injuries, according to the Safe Kids Worldwide organization. However, it's reported that only 50% of kids wear a helmet when riding a bike! Your children's teeth will only last a lifetime if they learn good habits while they're young. Teach your children that professional athletes wear helmets and they should too.
Mouth Guards
Did you know that there are three types of mouth guards? Be sure to ask your coach and your dentist what type they recommend for each sport.
Stock mouth guards come pre-formed and may offer a bulky or slightly uncomfortable fit.
Boil and bite mouth guards are purchased with no form, softened in boiling water, and then inserted and fitted to the athlete's mouth, allowing the soft plastic to mold to the shape of the teeth and mouth.
Custom-fitted mouth guards, fit just to your mouth, are made by us at Family SmileCare Center. These mouth guards are the best way to ensure a snug and safe fit because your dentist can examine the mouthpiece for issues. Custom mouth guards also help to facilitate normal speech and breathing—two of the most common reasons athletes choose not to wear one.
A mouth guard is one of the most inexpensive pieces of protective gear available, especially when compared to the expense of restoring a knocked out or broken tooth. Costs to treat only one knocked-out tooth over a lifetime ranges from $5,000 to $20,000.
Know the Risk
Up to 39% of dental injuries are sports-related, with most of those injuries occurring in children ages 7 to 11. The most commonly injured teeth are the maxillary central incisors, better known as your upper two front teeth. They are generally the most visible teeth and are also the most vulnerable.
Remember, prevention is the key. If a dental emergency does occur, call your dentist right away. As always, if you have any additional questions about protecting your face and mouth, contact your dentist or primary care provider.