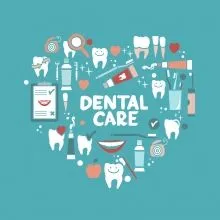 Thinking about improving your oral health in 2018? Here are some resolution suggestions to keep your smile shining bright as the snow this holiday season!
Stop tobacco use
This obviously has more benefits than your oral health alone, which is why it's at the top of our list of resolutions. Consider using a progress-tracking app or attending support groups. Your dentist and primary health provider can also suggest options for you. There's no time like the present to make this necessary change!
Choose healthier food options
Studies have shown that eating healthier is one of the best ways to improve your oral health—especially when it comes to snacks! Yogurt, cheese and fibrous fruits and veggies like apples, celery, and carrots are great for your teeth and make the perfect afternoon or after school snack. Also, most people don't think to brush after snacks, but food or beverage consumption contributes to tooth decay. Brushing after a snack could be just the adjustment your oral health routine needs.
Prevent gum disease
Nobody can spot the beginning signs of gum disease better than your dentist. Detecting symptoms before it becomes a serious problem is the best way to protect your teeth for the future. Your dentist can suggest successful methods for preventing gum disease, but the best ways include regular cleanings and check-ups, flossing, and proper brushing.

Schedule regular cleanings
Dental visits every six months allow your dentist and dental hygienists to keep track of your oral health and develop a treatment plan that fits your needs. Visiting a dentist twice a year prevents plaque buildup left behind from poor or irregular brushing. Not to mention, you'll leave feeling cleaner and healthier. What better way to kick off 2018? Call to schedule an appointment!
Chew sugar-free gum
If you don't already chew sugarless gum, it can be a refreshing and easy way leave your mouth feeling fresh after a meal or snack. Using a gum or lozenge containing xylitol helps to neutralize harmful acids and reduce cavity-causing bacteria.

Brighten your smile
Wishing your pearly whites were a little brighter? Talk to your dentist about whitening opportunities and over-the-counter products they recommend.
As always, remember to brush twice a day and floss regularly. If you have any questions, don't hesitate to ask your dentist. Happy Holidays from all of us at Family SmileCare Center!