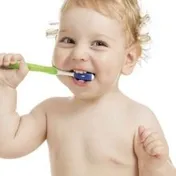 Most experts agree that the best time to start good oral hygiene habits with your children is before their teeth even begin to come in. There are many things parents can do with their babies and toddlers to help ensure a healthy oral start to their lives.
Remove plaque from baby's gums with a soft washcloth
Do not share eating utensils, which can also mean sharing bacteria
Do not let your child have a bottle while in their bed or crib; the liquid's sugars will linger in their mouth
Talk to your dentist about how much fluoride is the right amount for your child
Recommended Age for First Dentist Appointment
The age of a first visit to the dentist is recommended to be around the child's first birthday. Babies typically cut their first tooth around six months of age, although that can vary greatly from child to child. By the time they turn 1, a child will typically have a handful of teeth.
A child's first dentist visit could be to the family dentist that you are familiar with. Another option is to visit a pediatric dentist who specializes in children's dentistry. If you have questions about which dentist to visit, your pediatrician or family doctor could advise you since they should know both you and your child fairly well.
What to Expect from a First Dentist Appointment
First and foremost, a parent can avoid unnecessary meltdowns by scheduling this appointment early in the day, avoiding naptime or when your child may be hungry.
A first visit is really quite introductory. This gives the dentist a chance to meet your child, and vice-versa, for a non-painful and less invasive visit. A cleaning or other painful procedures are not likely, therefore the dentist can be the "good guy" with this visit.
Depending on the age of the child, the dentist may allow the child to sit in a parent's lap or may see the child alone. A calm, friendly and patient atmosphere is important during this visit, so when the child sees the dentist the next time they remember that this was not a frightening or negative experience.
If your child is cooperative, the dentist will be able to see inside their mouth, check out the status of any teeth that have already come in, and observe the likelihood of the remaining teeth's ability to come in without problem.
If the child is particularly compliant, this appointment could last between 15 and 30 minutes and may include any of the following in addition to general observation:
Oral x-rays
Gentle teeth cleaning and polishing
Fluoride needs assessment
Toothbrush demonstration/introduction
This appointment would also be a great time to have the dentist answer any questions that you, as a parent, might have.
Maintaining good oral habits with your child at home will also make the dentist's office less intimidating for future visits.
If you are looking for a friendly family dentist that takes pediatric patients, call Family SmileCare Center today.